The Jiangsu delegates to the ongoing 20th CPC National Congress were inspired by the great changes that have taken place in Jiangsu over the past decade when they visited Monday evening a theme exhibition entitled "Striving for a New Era" that is being held in Beijing. Among the top provincial leaders visiting the exhibition were Wu Zhenglong, Secretary of the Provincial Party Committee, Xu Kunlin, Deputy Secretary of the Provincial Party Committee and Governor, Zhang Yizhen, Chairwoman of the Provincial CPPCC, and Deng Xiuming, Deputy Secretary of the Provincial Party Committee and Secretary of the Provincial Political and Legal Committee.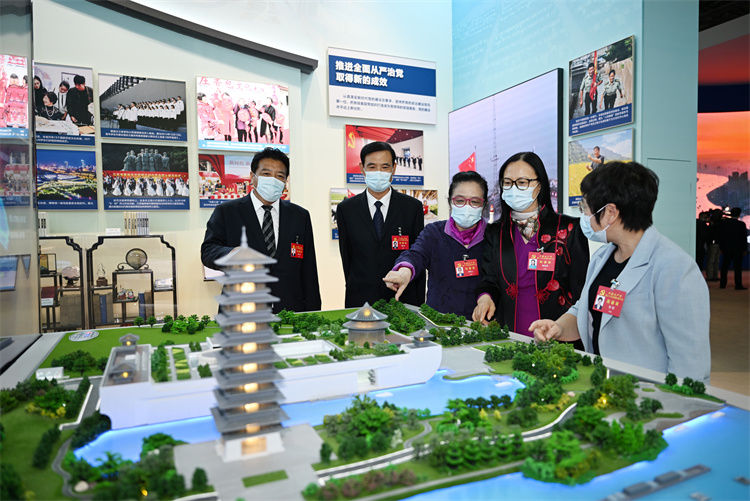 The delegates hailed Jiangsu's development achievements of the new era in the past decade, praised the physical models, vivid videos, pictures and charts that showcased the great achievements and changes of the Party and the country in the new era.
Manned-space flight, lunar exploration, deep-sea and deep earth exploration, supercomputers are among the major achievements of independent innovation mentioned in the report of the 20th National Congress of the Communist Party of China.
The delegates were proud of the major innovative achievements that were achieved with Jiangsu's participation in the research and development.
In the central comprehensive exhibition area, a group of pictures of ecological civilization construction in various parts of Jiangsu shows a grand picture of "beautiful Jiangsu".
The delegates said that the achievements of the past decade are inspiring, the grand blueprint for the future is inspiring, adding that they will strive for greater victory and glory in the new journey so as to work together to build a modern socialist country in an all-round way and promote the great rejuvenation of the Chinese nation in an all-round way.